---

Waco
Deep In The Heart Of Texas

| | |
| --- | --- |
| Where in Texas ? | |
Most Wacoans describe the location of Waco as being midway between Dallas and Austin. Folks from outside of Texas respond knowingly to that information. But do you really know where Dallas and Austin are located? Is Dallas over in the desert and mountains of west Texas? Or is it perhaps in the piney woods area of east Texas? Or how about down on the Gulf Coast? How far is Austin from Dallas? Maybe 100 miles, 200, 500, 700 ? Yes, you can travel over 800 miles and still be in Texas.
Geography Lesson
The Dallas/Fort Worth Metroplex is located in north central Texas.
Waco is located in central Texas, 90 miles south of Dallas.
Austin is located 90 miles south of Waco.
San Antonio is about 75 miles south of Austin.
These metropolitan areas are connected by Interstate 35.

Houston is located in southeast Texas.
El Paso is in far west Texas on the Mexico border.
Amarillo and Lubbock are up in the panhandle near New Mexico.

Airline Service
Waco's commercial airport, Waco Regional Airport , is served by American Eagle regional jet service to Dallas/Fort Worth (DFW). Flight time from DFW to Waco is about 20 minutes.
Amtrak Service (McGregor)
The daily 'Texas Eagle' rail service from Chicago to San Antonio is available in McGregor, about 15 minutes from Waco. This service includes Dallas, Fort Worth, Temple, Austin, and San Antonio. A connection can be made in San Antonio with the 'Sunset Limited' service to California westbound and Houston, New Orleans eastbound.
If You Are In The Vicinity
The next time you are in the area, please stop and spend a day or two.
You will receive a warm welcome from a friendly city.
The Waco Convention and Vistors Bureau is one of the best sources of
information about the city.
A Few Statistics
The Waco MSA metropolitan area (McLennan and Falls counties) has a 2018 U.S. census population estimate of 271,942.
The City of Waco has a U.S. Census 2018 population estimate of 138,183.
Waco and its closest adjacent suburbs have a population of about 175,000.
Waco proper, not including the suburbs, has an area of 84 square miles.

Waco is in the Central Texas region which includes the adjacent metropolitan (MSA)
areas of Waco and Killeen/Temple. The combined population of these 2 metropolitan
areas is 723,621 based upon U.S. Census 2018 population estimates.
<! ---------- Pic Gallery Description> &nbsp

| | |
| --- | --- |
| Picture Gallery | &nbsp |
Please visit the Picture Gallery.
It currently only has a few pictures, but it will continue to grow.
&nbsp
<! ----------------------> &nbsp
Waco --
Home of The Baylor Bears
Baylor University is a Baptist university with a 2014 enrollment of over 16,000 students. It is a member of the Big 12 Athletic Conference which brings teams such as the University of Texas, Oklahoma, Texas Tech, Oklahoma State, Iowa State, Kansas, TCU, West Virginia and Kansas State to battle the Bears.


Baylor football was the Big 12 champion in 2013 and the co-champion with TCU in 2014. Congratulations to Baylor's 2005, 2012, and 2019 national champion Lady Bears women's basketball teams and 2004 national champion men's tennis team. Also congratulations to 2005 NCAA women's tennis singles national champion Zuzana Zemenova, and the 2005 NCAA men's tennis singles national champion, Benedikt Dorsch. In track, 400 meter 2005 national champion was Darold Williamson, a member of the 2004 Olympic gold medal 4x400 relay team. And, of course, congratulations to the 2012 Heisman Trophy winner, Baylor quarterback Robert Griffin III.
TSTC, MCC
One of the nation's top technical colleges is Texas State Technical College (TSTC) which offers training in numerous technical fields. The TSTC airport is well known as the landing site for Air Force One when president George W. Bush made trips to his Crawford area ranch. The TSTC airport is home to Waco's largest employer, L-3 Communications . Several aircraft technology companies are located at TSTC Airport which is located near Interstate Highway 35. Waco's commercial airport, Waco Regional Airport , is located in north Waco near Lake Waco.

Other colleges in Waco include a junior college, McLennan Community College (MCC) ,which is located on a beautiful wooded campus in north Waco.
Dr Pepper Was Invented Here
The history of this soft drink can be viewed at the Dr Pepper Museum which
is located in the old Dr Pepper building. The museum includes a soda fountain where you can enjoy some refreshments.
Cross The Brazos At Waco

The historic suspension bridge was built in the 1800s and was designed by John A. Roebling who designed the Brooklyn Bridge. The bridge is now only used by pedestrians and gives a good view of the Brazos river. The river walk provides a scenic view along the river's bank. The bridge is located in downtown, across the street from the Waco Hilton.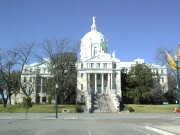 The Building With The White Dome
The McLennan County courthouse was built in the style of many capitol buildings with a towering dome.

Armstrong Browning Library
This library located on the campus of Baylor University contains one of the world's largest collections of memorabila of Elizabeth Barrett Browning. The building's magnificant 'Foyer of Meditation' is a beautiful room for quiet reflection and fulfilled the dream of Dr. A.J. Armstong to build a building of extraordinary beauty.

Texas Rangers
The Texas Rangers are well known as a historic law enforcement agency. One of Waco's most visited sights is the Texas Ranger Museum and Hall of Fame. It presents the history of the Texas Rangers Law Enforcement Agency and the history of the Old West.
Texas Sports Hall of Fame
Memorabilia of many Texas sports legends can be viewed at the
Texas Sports Hall of Fame. Exhibits of coach Tom Landry, olympic gymnist Mary Lou Retton, and numerous other great sport personalities are housed in this museum located near Interstate Highway 35.
Mayborn Museum Complex
Baylor University's Mayborn Museum Complex is a major natural science and cultural history museum. In addition to its own exhibits, the museum frequently hosts traveling exhibits.

Cameron Park Zoo
Cameron Park is a very large city park that has scenic roads and trails that wind through a beautiful natural environment with trees, cliffs, and the Brazos River. Located in the park is the Cameron Park Zoo which displays its animals in natural environment settings. The zoo's herpetarium is an outstanding display of reptiles. The Brazos exhibit which shows the wildlife and habitats of the Brazos river from its source to the Gulf of Mexico is one of the zoo's newest major additions.
The Largest Urban Lake In Texas

Although there are lakes in Texas that are larger than Lake Waco, the lake is the largest in the state that is located entirely within a city.
Historic Homes
Several magnificant old homes have been restored and are open for tours. These homes bring memories of early life in Waco when it began along the banks of the Brazos river.
The Town of Crawford -
George W. Bush's Ranch
The town of Crawford is located about 15 miles west of Waco and became well known because of its close proximity to the ranch of the former president, George W. Bush.
Little League Softball World Champion Teams -
In August 2004, the Midway All Stars ages 11-12, won their 11th World Series Championship in the last 13 years. In August 2009, the team from Crawford advanced to the final game of the world series. In August 2017, the Waco Lake Air All Stars won the World Series Championship. The Portland, Oregon Little League Softball World Series site has further information and series pictures.

In August 2002, the Midway All Stars ages 11-12, won their 9th World Series Championship in the last 11 years at Portland, Oregon. The Midway senior league team, ages 15-16, won the World Series in Louisville, Kentucky. The Midway Little League represents the Waco suburban communities of Woodway, Hewitt, and the western Waco area.
---